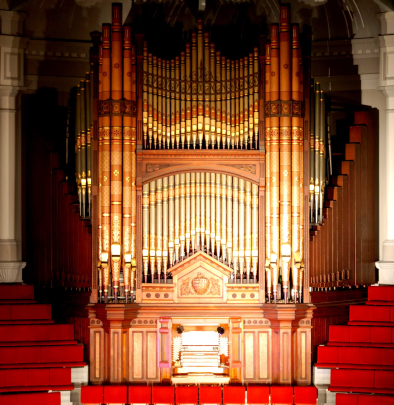 Tickets are available on walk-up at the Victoria Hall Box Office on the day for £11(Concessions £9.50, and seats are unreserved: the price includes Tea or Coffee and a programme. The Victoria Hall is located in Bagnall Street Hanley, Stoke-on-Trent, ST1 3AD.
There is a good car park opposite, pay on entry. Easy links to the M6, M1, A50, A52  & A34, A 53 Stoke-on-Trent railway station has frequent connections from London, Birmingham, Derby, Nottingham, Crewe,
Liverpool, Manchester & Hereford. It is a 10 minute bus ride to the Victoria Hall
Organ Proms last for approximately 75 minutes unless otherwise stated
VICTORIA HALL ORGAN PROMS
Played on the Grand 4 Manual Conacher-Willis Organ
A full specification  of the organ is available free of charge  before or after each Prom
Tickets are available on the day (unreserved) from the Victoria Hall Box Office
£11(concessions £9.50)– includes Tea/Coffee & Programme.
There is plenty of room.
The best seats for organ sound are in the Upper Circle-The Circle is also open -The stalls are closed Programme run time c 75 minutes – no interval
"The Joy of the Hanley Organ Proms -Music for Everyone" ........ (Staffordshire Sentinel)
Tickets (unreserved) are available at the box office on the day
Box office open 90 minutes before the performance
Please try to come early to avoid queues
Card payments at Box Office only
Box Office Tel 0844 871 7615 (fees apply)
On line https://www.atgtickets.com/stoke
Hotels near to the Victoria Hall Hanley
Dr Philip Smith & John Pryer
Saturday July 30 2022 12 noon
Tuba Tune – Reginald Porter Brown
Prelude & Fugue in C minor "The Great"  – J S Bach
Impromptu in D -Sir Sidney Nicholson
Salut d'Amour – Sir Edward Elgar 
Prelude on an Irish Song "My loves an arbutus" -W R Pasfield
A Merry Heart ( Longton High School Song) Dr Sidney Wéalé
(Sung by Philip Cartwright)
Variations Sur un Noël Op 20 -Marcel Dupré
Improvisation on 'A Merry Heart'   -John Pryer   
Donald Mackenzie
Odeon Leicester Sq
                                Victoria Hall mini-Organ Festival August 19th & 20th 2022
Friday August 19 2022 12 noon
A programme of lighter organ favourites
Overture  'Morning, Noon & Night in Vienna' – F  Suppe
Maus Polka – Josef Ivanovici, Seven Seas March – Eric Coates, Shadow Waltz – Paul Dubois, Tico Tico – Zequinha de Abreu, Selection of music from 'Evil Under the Sun' – Cole Porter,  Georgian Miniature – Ernest Tomlinson, Cachucha Castellana – Ernst Rübel, Selection from "My Fair Lady" – Alan J Lerner
My Love is Like a Red Red Rose – (Improvisation)
The Roaring Twenties – Celebrating Jazz Tunes – arr. MacKenzie  
Gert van Hoef
The Netherlands
Saturday August 20, 2022 12 noon followed by a recital at 2.45pm in Bethesda Chapel, Albion Street Hanley.
Improvisation on St. Gertrude (Arthur Sullivan) Gert van Hoef Vater unser im himmelreich G. Böhm
Preludium en Fuga in G  BWV     541   J.S. Bach  
Hope (arr. Gert van Hoef)     Yiruma    
Allegro Symphonie 6     C.M. Widor 
Pastorale en Fantasie      Gert van Hoef      
Psalm 73 vers 7      F. Asma 
Symphonie 9 Op 95 (New World) Mov IV   A. Dvořák 
Bethesda Chapel 2.45 (admission free -retiring collection) Gert van Hoef
Improvisation on 'Cwm Rhondda'   Gert van Hoef
Cantilena Sonata 11  J Rheinberger
Introduction & Toccata Ps 56   J Propitius
The Swan   C Saint-Saens
Toccata in C minor    E Halsey
Gavotte    F J Gossec
Grand Chorus    C J Grey
Improvisation on 'Highland Cathedral'    Gert van Hoef
Daniel Greenway
Organ Scholar Keble College Oxford
September 10, 2022 12 noon
                    followed by a recital at Bethesda Chapel Albion Street Hanley at 2.45 pm
Prelude and Fugue in E flat BWV 552- J S Bach
Menuetto Impromptu – John Ireland  
Impromptu in C – Samuel Coleridge Taylor
Liebestraum – Franz Liszt
Romance To the Evening Star (Tannhauser) – Richard Wagner
Fantasy Choral No 1 – Percy Whitlock 
Toccata – Maurice Duruflé
This Organ Prom is followed by a performance at 2.45pm at Bethesda Chapel Albion Street Hanley by Daniel Greenway -Organ & the Rev Allan Townsend-Narrator of "An afternoon with Sir Edward Elgar" . Admission free-retiring collection.
Callum Alger
Director of Music St Peter's Wolverhampton
Saturday October 15 2022 12 noon The Jack Oliver Organ Prom
Allegro maestoso (Sonata No.1 in G major, Op. 28) – Edward Elgar
Passacaglia in C minor (BWV 582) – J.S. Bach
Song of Sunshine – Alfred Hollins
Choral No.3 in A minor – César Franck
Pavane, Op. 50 – Gabriel Fauré
Crown Imperial – William Walton
This Victoria Hall Organ Prom will end at 13.10 and will be followed by Liverpool Cathedral's annual Anniversary recital by Ian Tracey at 4.0pm on the famous Willis Organ. Easily reached in time by train or M6
Victoria Hall Organ console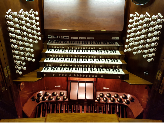 Full specification of the organ is available from the VH Organist at the Organ Proms, or email mike52@ntlworld.com
Tickets available on the day ( unreserved)  at the Victoria Hall Box Office   
£11 (concessions £9.50) includes Tea/Coffee & Programme
PLEASE TRY TO COME EARLY TO MINIMISE QUEUES
Advance booking can be made via the Box Office
Join the 'Patrons of the Victoria Hall Organ' mailing list ( £5 p.a.) and receive mailing of the Organ Prom programmes and support the continuance of the Proms Tel  07967 806 409 or mike52@ntlworld.com for further details.
2023 Organ Prom dates to follow
Programmes could be subject to change.
The Victoria Hall Organ Proms are promoted by  Stoke-on-Trent Theatres Ltd  and  the Victoria Hall Consultant Organist  (07967 806 409 or mike 52@ntlworld.com), with the support from the Harding & Dronsfield Trusts, MR Organ Promotions, the Victoria Hall Organ Prom Patrons & the NSDOS
Victoria Hall Organ Proms website is linked to 'The Organ Recital Guide' – www.organrecitals.uk
Local Organ Events for organists are organised by the North Staffs & District Organ Society. Visits for organists to try organs in churches, to play in members' recitals, participate in educational & IAO/RCO Organ Days.  For the NSDOS details and contact – go to the website www.iao.org.uk/nsdos